Tools Direct USA only partners with the best manufacturers!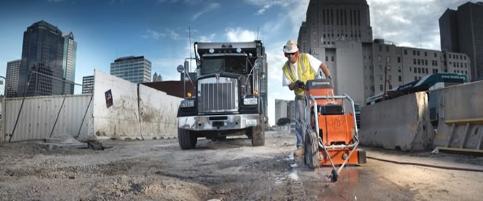 Whether you are a Do-It-Yourselfer or a Contractor, Tools Direct USA has the tools to get the job done right. Our manufacturers produce concrete cutting saws, diamond blades and diamond core drill bits that are especially designed to tackle cutting cured concrete, green concrete, brick & block, stone, pavers, tile, and asphalt.
Diteq Diamond Tools & Equipment
Diteq is a complete source for high quality diamond blades and core drill bits, Shibuya Core Drilling Equipment and accessories, concrete and masonry saws. Diteq has some of the world's most innovative metallurgical engineering with their ARIX technology. ARIX technology allows for precise diamond arrangement and alignment on each blade/bit, set to control wear and make the blade/bit cut faster. In some situations, this technology can increase the cutting speed by 50% while doubling a normal blades life (of course, how and where you use an ARIX blade will affect the outcome). Diteq is the only company that employs full ARIX technology. ARIX -- the technology that changes everything.
Diamond Products (including Core Bore and Core Cut)

Diamond Products is one of the largest manufacturers of diamond tools in the United States. They are based just outside of Cleveland, Ohio. In 1964 Diamond Products began focusing on diamond core bits and drilling machines for the construction industry. Since then, they company has expanded its product lines to include diamond blades, grinding tools, concrete saws and drill rigs for the construction and stone industries.
Husqvarna Construction Products (including Target, Partner, and Felker)
Founded in 1689 in Sweden, Husqvarna has a very extensive product range with everything from professional machines to products for demanding consumers. When the company started, they produced what were probably the finest muskets of the day. And it was then that they lay the foundation for the engineering expertise that has since helped develop some of the world's best products. Husqvarna Construction Products, part of Husqvarna AB, is a world leader in machinery and diamond tools for construction. The construction product range includes power cutters, floor saws, tile and masonry saws, wall and wire saws, core drilling machines and diamond tools for these and other applications.
Lackmond Products
Lackmond Products is your trusted partner for all your cutting, grinding, polishing and drilling needs. A family owned company for decades, they know how to solve problems by finding solutions. Excellent products and always consistent quality.
MK Diamond Products, Inc
MK Diamond is a recognized world leader in the manufacturing of precision equipment for cutting and coring of all types of masonry, concrete, tile, and stone products. MK Diamond manufactures a wide variety of concrete cutting saws engineered for high performance and reliability. From lightweight, portable saws for the general contractor, to high-horsepower, self-propelled saws for the concrete professional; MK Diamond has the tools to complete any concrete project. MK Diamond manufactures core rigs, handheld drills, and diamond core bits engineered to stand up to the rigors of the professional coring market. These tools deliver exceptional drilling performance in a wide range of concrete and masonry applications. The MK Diamond masonry saws, diamond blades and diamond core bits are especially designed to tackle any brick, paver, or masonry cutting job. MK Diamond's products provide the features and quality that professionals require.
Questions? Please call us at 1-866-268-2600 or email us.